Caregiver in Tanglewood TX
A common problem that family caregivers face with loved ones who have Alzheimer's disease is that they may wander off. Not only can this be terrifying for you and for your elderly loved one, but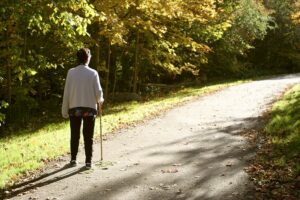 your loved one might get hurt while he's away from home. Here are some things you can do to try to prevent episodes of wandering.
Try to Determine the Cause of the Wandering
More often than not, if you can determine what is causing your loved one to wander, you are more likely to be able to help your loved one stop wandering. Your loved one might need to eat something, use the bathroom, or he could even be bored. There are plenty of other reasons that could be contributing, as well, so you might want to talk to his doctor and to his elder care providers to get ideas.
Move Hazards Out of the Way
If you're still trying to figure out the cause of your loved one's wandering, it's important that his pathways are clear when he decides to take off. Move anything that could cause your loved one to trip. If your loved one's prone to wandering early in the morning or later in the day, night lights can make a big difference.
Use Locks and Alarms
Securing exterior doors can help to prevent your loved one from getting out of the house when he wanders. You can use door mats that have pressure-triggered alarms in them or you can have door alarms installed by the same company that operates your home alarm system. You can also try using keyed deadbolts to further secure the door.
Try Hiding Doors
Your loved one might be a little less likely to try getting out to wander if he's not able to see the doors readily. Try camouflaging them with curtains or by painting them the same color as the walls around them. If you can do things that help to draw attention away from the doors, that can help.
Have Your Loved One Wear a Tracker
If your loved one wanders a great deal, having a GPS tracker on him can help a lot when you need to locate him. You can find trackers that fit on his wrist or you can download apps that work on his smartphone. Trackers that your loved one isn't likely to remove tend to work better.
You may not be able to prevent every episode of wandering for your loved one, but you can prevent many of them.
If you or an aging loved one are considering 

caregiver services in Tanglewood, TX

, contact the caring staff at Personal Caregiving Services at 832-564-0338. Providing Care in Houston, Bellaire, West University Place, Katy, and Sugar Land and the surrounding areas.
Sid Gerber is a founding partner of S. Gerber & Associates, a firm representing over 22 years of experience specializing in a broad range of long term care products and services including but not limited to care assessment, planning and management, care co-ordination, in-home caregiving services, quality assurance monitoring, and the securing of financial independence and asset protection utilizing insurance products from major carriers to pay for long-term care. Mr. Gerber helps family members make difficult long-term care decisions and provides them with the necessary education and resources to plan and manage their long-term health care and financial needs.
In 1989 after selling his family owned food service business, Mr. Gerber pursued his compassion for the elderly by completing his geriatric education and training requirements to be a licensed nursing home administrator (LNFA) from the University of Texas Health Science Center at Houston.Previously he received his undergraduate business degree from the University of Texas at Austin and his Masters in business administration (MBA) from the University of Houston.In 2003, Mr. Gerber earned his Certification to be a Senior Advisor (CSA).
Sid Gerber is a Google Verified Author
Latest posts by Sid Gerber (see all)